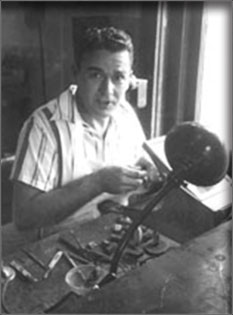 Founder: Lucien "Tony" Caruso
Lucien "Tony" Caruso founded the Ottawa Dental Laboratory in 1937 as a one-man operation, specializing in partial dentures, but as Tony's reputation grew, so did his company. With his constant quest for new products and techniques, Tony grew the Ottawa Dental Laboratory into one of the Midwest's most formidable leaders in the advancement of dental technology. Tony's philosophy from day one was to "treat every case as though it were for your mother" which became the foundation for his success. Little did Tony realize way back then, just how strong of a foundation he had created, which now in its 3rd generation, supports 4 locations.
It's been over eighty years in the making. Like the father before him, Luke Jr. has mentored his sons, Luke III and Jim, in the dental laboratory business. Luke III manages product development, CAD/CAM technology, and is the Chief Operating Officer of the company. He is committed to the investment in innovative equipment, technology, and materials, as well as new product development. Jim is the Chief Administrative Officer and oversees many of the operational functions of all four laboratories. He ensures that all four of the locations operate like a well-oiled machine in order to deliver the best products and service to their customers.
This deep-rooted family business continues to grow as their dedication and loyalty to the dental community remains constant. The Caruso family is committed to forge ahead in the twenty first century with the dental industry. They'll continue to thrive and the key to their successful future will be to continue embracing the foundation of why the lab was founded in the first place: "to provide the finest dental prosthetics in the Midwest". And they'll not forget to "treat every case as if it were your mother's" or in Luke and Jim's case, their "grandmother's." They believe that the future of customer satisfaction will continue to be based on solid relationships of trust and respect. It is this commitment that will make dreams of the future come true.