Personal Protective Equipment (PPE)
We're Here to Help the Fight!
Our goal is to accommodate your needs during the national covid-19 pandemic. Maintain a safe work environment for you, your staff, and your patients with personal protective equipment offered by the Ottawa Dental Laboratory. Should you like to place an order of PPE, please call 800-851-8239 or email customerservice@ottawadentallab.com.

All orders are processed via credit card upon shipping and will have a $10.00 shipping fee.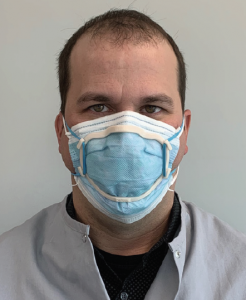 Designed to mold to your face
Holds mask firmly in place
Rubber band provided
Made in the USA
*Use the Bellus3D FaceApp
*Download and use the Bellus3D FaceApp to generate .stl files for your custom mask fitters! Please send this file to digital@ottawadentallab.com and we can fill your order as soon as possible.
Facial Protection
Designed for loupe usage
Clear 0.10 PET (polyethylene terephthalate)
One size fits all
Printed resin
Rubber band provided
Basic snap-on assembly
Made in the USA
Facial Protection
Clear 0.10 PET (polyethylene terephthalate)
One size fits all
Printed resin
Rubber band provided
Basic snap-on assembly
Made in the USA
Protect your ears from pulling face masks
One size fits all
Each pack contains 3 ear savers
Made in the USA